Adopting from Siamese Cat Rescue

Please read through this page carefully, as it contains important information that is key to your having a positive adoption experience with our program.

Thank you for considering our organization to adopt a Siamese for your household.
Let's start out with what "Rescue" is all about, and why you're considering adopting from this type of Organizaton.
Rescue is all about Saving a Life by providing a second chance to a cat or cats that are for some reason unwanted - abandoned, orphaned, abused, or given up for a wide variety of reasons.
Rescue is not a means to get a "low cost" Siamese, for the cats we see come without resumes - we have no idea as to their heritage.
Rescue is also not a place where we can guarantee a fully screened, completely healthy and well adjusted cat or kitten. The cats we see may be medically compromised or behaviorally challenged.

So why would you choose to adopt a Rescue cat?
We hope it's because you are a compassionate, kind and loving person, a person who believes in giving second chances, a person who wants to work with us in a team effort to support and love these creatures who, through no fault of their own, found themselves in unfortunate circumstances of some kind.

So what can SCRC do to help you Save a Life?
We applaud you wanting to save a life, but unfortunately, there may be a "price" to pay for this compassion. Our responsibility is to help you be successful by assisting you with selecting a Siamese that will match your unique household scenario. We, as a Rescue Organization, are therefore dedicated to several important aspects of this process:

We screen the cats carefully prior to accepting them into the program to ensure they can be successful in their next home.
We vet our cats to the best of our capabilities to ensure we have addressed the obvious medical issues, and if there are continuing medical concerns we are aware of, we share those in detail with the prospective adopters.
We work with the cats in our foster homes to get to know each cat's individual personality, their likes and dislikes, their behaviors (positive and negative), so that we can make a successful match between cat and family.
We spend a great deal of time with our applicants up front, finding out what their experience is with Siamese and with rescue cats in general, finding out about their household and its members, and learning what type of feline personality will work best in that particular situation.
As a team consisting of the Adopter, the Interviewer, the Foster and the Center, we work to make a successful placement: a solid match between the cat and their needs, and the family and their wants and needs.
We stand by our cats for their lifetime, and are available at any time to the adopter and the cat to work through any issues or concerns that may arise. We offer mentor programs, shoulders to lean on, years of advice and experience, and if all else fails, a safety net for that cat in the future.

So what do we ask from you?
We ask you to work with us in a "Team" environment to find the best match for both you and the cat. You need to understand that while many of these cats may not be "perfect" initially, that over time, they will blossom or improve significantly.

We look forward to working with you in our team effort to save the countless Siamese and Siamese mixes that are out there needing our help. We hope you are the adopter we are looking for, one who understands that the ride is not without its bumps, but it's a ride well worth taking.

Still not sure? Try this link: Why Rescue

Adopting through Siamese Cat Rescue (All the gritty details)
The adoption process for Siamese Cat Rescue Center (SCRC) is based on matchmaking, so the application process is twofold; first to ensure you are an appropriate home for one of our Siamese, and second, to gather information about your household and the cat you are looking to adopt so we can ensure that both you and the cat will be happy. While this process does take some effort to complete, the end result is a much higher likelihood for a successful adoption.
Since our program is so popular, the cats you currently see listed can many times be adopted out quickly (a good thing), therefore we ask you to not apply for a specific cat you see listed, as we wouldn't want you to be disappointed if they were no longer available after you have been approved to adopt from us. There are always new cats coming into our program every week, so we're confident, with a little patience, we can find your perfect match.
Since our program covers such a large area, our application process is done online for the most part, so internet access is key to the application and adoption process.

Coverage Area and Adoption Fee
SCRC adopts cats to people in the eastern third of the US, from Florida to Maine and inland as far as Indiana. Transport assistance is available and noted for each cat.
There is an initial $10 application fee, and the Adoption fees are $125 and includes all of the vet work listed below. We offer reduced rate adoptions for Senior Citizens ($100). Transportation across state lines will require a Health Certificate ($20) as well as a pet carrier. We sell new, quality carriers below our cost ($25)

Medical/Behavioral Possibilities

While we make substantial medical efforts within our budget to ensure our cats are healthy prior to placement, please understand that since these are Rescue Cats from unknown backgrounds, and we work within a limited budget, you need to be prepared for possible medical and/or behavioral issues that may arise after adoption. Our job is not necessarily to completely "repair" a cat, but rather to identify any issues as best we can and then find an adopter who is willing to take on that specific medical or behavioral issue. We will always provide full disclosure of any medical or behavioral issue we discover while the cat is in our care, but realize, we are not able to guarantee that we have discovered all issues.
This is not to say that every cat in our program will have behavioral or medical issues.

FeLV / FIV tested
Spaying or Neutering
Thorough Vet Exam
Vaccines (as required)
Microchip and registration
Treatment for fleas, earmites and worms
Blood work where necessary, and dentals for older cats

Adoption Policies

The SCRC adoption program is based on the following policies:


No Siamese will be placed in a home which allows any cats to go outside.

SCRC will always accept the cat back into our program. We ask that adopters have worked with us to resolve the issue prior to the return.

All existing cats must have had a FeLV/FIV negative test sometime in their lifetime
We do not allow any method of declawing an adopted cat.
There are age limitations for kittens and small children.

Please review our full adoption policies here:

Adoption Policies

.

Still with us? We're almost done
How our Application Process Works
Complete and submit the Online Adoption Application, following the instructions on the form. You will receive additional instructions by email throughout the application process, so it's very important that you check your email regularly.

(If you do NOT receive a confirming email after you apply, contact us immediately)

.
Due to the large number of applications we process, they must be submitted online. If you don't have computer access, you can have a friend or relative proxy for you.
If you've had any pets in the past 6 months, your Vet will need to complete a Vet Reference Form and send it to us (we'll give you the form during the application process).
Your application will be checked for completeness and then assigned to an Interviewer who will contact your References. You will receive additional instructions by email on completing an online Questionnaire and Pet Chart to help the Interviewer prepare for their phone interview with you. Once these steps have been completed, your Interviewer will arrange a time for the interview.
Your Interviewer will provide you with more detailed information about how the process works throughout the application process. You can ask them questions at any time by Email or through the online Application Status page you'll be given, or see if we already have the answer in our online FAQ
NOTE: While the application approval process can be completed in days, it can take up to two weeks depending on the response time from personal references, vets, as well as other requirements. We are volunteers, but you can be assured we are working as hard as we can to process your application as quickly as we can.

Keep in mind that we are unable to reserve a cat for you while you are in the approval process, as there may be other Approved Applicants that are already considering this cat.




Once you have been Approved


You've probably already looked at the cats in the program on the Siamese Available page, and perhaps even made some "Info Requests" to several fosters, but now that you're approved, each time you ask about a cat, you'll be put in line for that cat and the foster will have an email discussion with you about the cat and answer any questions you might have. You will be discussing all of the specifics of the cat(s) you are interested in with the Fosters and your Interviewer. We work very hard to ensure we match each cat with the right situation.

When a Match has been made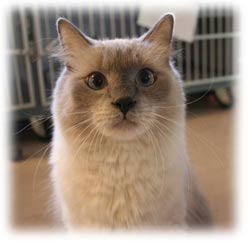 We will work with you to arrange transport for your new Meezer if necessary (within their Transport Area). If you do need transport, one of our Transport Coordinators will be in touch with you to let you know what the transportation options are using the Meezer Express. Your participation in the transport is generally required, although we can make exceptions for those unable to drive. Siamese Cat Rescue Center does not use Air Transport except in rare instances, or if you are willing to fly and pick up your cat.
NOTE: There are additional costs for transportation related items; Carrier ($25-our cost), Interstate Health Certificate ($20) if the cat goes across a state line.
NOTE!


Massachusetts residents ask your interviewer about delivery limitations into your state!


Feel free to contact us for further information.