Please read through this page carefully, as it contains important information that is key to your having a positive adoption experience with our program.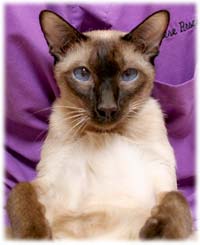 Thank you for considering a Rescue cat! To start, what is "rescue" all about? It is about saving a life, choosing a cat that needs a second chance – a cat that for some reason was unwanted – abandoned, abused or given up. It is not a way to get a 'low cost' cat (as rescued cats often come with unidentified issues, despite our best efforts). The cats we see may be medically compromised or behaviorally challenged.
We hope you have chosen Rescue because you are a compassionate person who wants to give a cat a second chance. We are here to work with you as a team to make a good match for your family and to help you with any issues that crop up by sharing suggestions and ideas that come from twenty plus years of experience.
How We Work
We screen the cats carefully before accepting them – we are not a sanctuary designed for long term living, but an adoption agency.
We vet the cats to the best of our ability, and share all that we have done and discovered with both you and your vet.
We work to identify each cat's needs with respect to the type of family situation they will succeed in, as well as each family's needs with respect to the type of cat that will do well with them. We, as we're sure is true of you, want the match to succeed.

All cats in the home must be indoor only and must be tested for FeLV/FIV once in their lifetime.
All pets in the home must be spayed/neutered and must be followed on a regular basis by a veterinarian.
No cat may be declawed. We do get some previously declawed cats.
You must provide a back up contact person who can help by either taking or placing your cat should you be unable to keep the cat in the future.
We are looking for permanent homes. While we will be available to help via mentoring and problem solving, we plan to limit our intake of cats in the future.
There are age limitations for kittens and small children (see Adoption Policies below).
While we have some transportation assistance available (i.e. cats in your "transport region"), for cats outside your region, you will be asked to travel to a place of our choosing to pick up your cat. For "in region" cats, you are still expected to participate in the transportation of the cat.
Please review our full adoption policies here: Adoption Policies.
To Get Started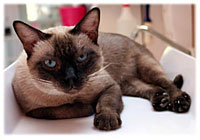 Complete an application. There is a $10 application fee. All applications are done online.
Follow the instructions on the welcome email you receive.
You may ask about cats at any time by clicking above their photo, however, we do not hold cats for anyone while they are in the approval process. The competition is keen, so don't get your heart set on any one cat. Pay attention to the restrictions listed for each cat – some are not to be with dogs, others not with children. Once approved, each time you 'ask' about a cat, you will be put in line for that cat. The foster of the cat can let you know where you stand; you can also see this on your application status page. Just because you are first in line does not mean the cat is yours – your Interviewer, the Foster Parent, the Director and yourself must all agree that this is a solid match based on all the information the Foster Parent has gathered about the cat, and the Interviewer has gathered about you.
Costs: Costs range from $50 (cats aged 10 and up) to $125, with some additional costs if our transportation service is used (a carrier is required - $25; a health certificate is required if a state line is crossed - $20).
The adoption process for Siamese Cat Rescue Center (SCRC) is based on matchmaking, so the application process is twofold; first to ensure you are an appropriate home for one of our Siamese, and second, to gather information about your household and the cat you are looking to adopt so we can ensure that both you and the cat will be happy. While this process does take some effort to complete, the end result has a much higher likelihood for a successful adoption.

Medical/Behavioral Possibilities
While we make substantial medical efforts within our budget to ensure our cats are healthy prior to placement, please understand that since these are Rescue Cats from unknown backgrounds, and we work within a limited budget, you need to be prepared for possible medical and/or behavioral issues that may arise after adoption. Our job is not necessarily to completely "repair" a cat, but rather to identify any issues as best we can and then find an adopter who is willing to take on that specific medical or behavioral issue. We will always provide full disclosure of any medical or behavioral issue we discover while the cat is in our care, but realize, we are not able to guarantee that we have discovered all issues.
This is not to say that every cat in our program will have behavioral or medical issues.
FeLV / FIV tested
Spaying or Neutering
Thorough Vet Exam
Vaccines (as required)
Microchip and registration
Treatment for fleas, earmites and worms
Blood work where necessary, and dentals for older cats