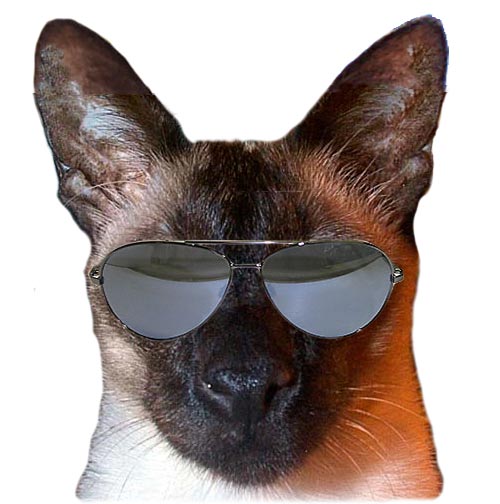 Hi

there, I'm Alphonso P(ee) Wallabee and I'm one of the 500+ volunteers that work for Siamese Cat Rescue Center (SCRC) throughout their multi-state coverage area, where our jobs are to help Siamese and Siamese mixed cats find new homes. These cats come to us from a wide variety of situations. We try to get to know these cats, focusing on their health and their behavior, match them with families that are comfortable with any issues that they may have, and then transport them home.

SCRC has a shelter facility located in Locust Dale, VA, about 1.5 hours southwest of Washington DC, and foster homes throughout the Eastern US, from Florida to New Hampshire to Indiana & Tennessee. The shelter is open by appointment only, Monday through Sunday. Because our turnover of cats is so great, it's necessary to complete the adoption paperwork prior to coming to adopt, as we can't hold cats for folks unless they are approved adopters.
Select How to Adopt on the left for adoption details.

Our Adoption Program is based on the concept of your "Saving a Life", and our job is to help you be successful in that endeavour.

Our application process is a bit more involved than some, partially because we are internet based and rarely get to meet our adopters in person, but also because we feel that detailed exchanges between the applicant, the foster parent and the interviewer are necessary in order to make sure that you get a cat that will work in your home and the cat gets a home that will work forever. Lifetime relationships are not built overnight, and we pride ourselves in open, honest and frequent communication designed to ensure everyone is happy and the match between adoptive home and adopted cat is a solid one.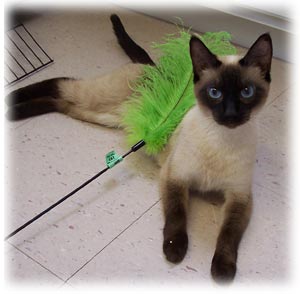 Due to the background of the type of cat we usually see, we are looking for adopters who understand that most of these cats come with some baggage. Whether they are medically compromised or behaviorally challenged, these are some of the most wonderfully appreciative cats at being given a second chance. Our fosters are skilled at identifying many medical and behavioral issues, and we share everything we know with you. We ask you, as an adopter, to partner with us in helping provide these cats with the opportunity to recover, learn, and blossom in your home. If you are looking for a "No issues" cat, Rescue may not be the best avenue for you.
We have lots of post adoption mentoring and a family of volunteers behind every adoption. With over 11,000 happy adopters and cats behind us as well as over 19 years of experience, we hope you'll join the Siamese Rescue family by opening your heart and home to a needy Siamese.